sequel akan dtg tahun depan 2010....iron man 2 akan brdepan dgn penjahat baru....


"The world is aware that billionaire inventor Tony Stark (
Robert Downey, Jr.
) is the armored superhero
Iron Man
. Under pressure from the government, the press, and the public to share his technology with the military, Tony is unwilling to divulge the secrets behind the
Iron Man
armor because he fears the information will slip into the wrong hands. With Pepper Potts (
Gwyneth Paltrow
), and James "Rhodey" Rhodes (
Don Cheadle
) at his side, Tony forges new alliances and confronts powerful new forces."
ni antara watak baru...ala-ala catwoman gituzzz..
Scarlett Johansson
as
Natasha Romanoff / Black Widow
: An undercover spy posing as Stark's assistant.
Johansson was cast after a scheduling conflict forced
Emily Blunt
to drop out of the part.
penjahat paling utama ialah
Mickey Rourke
as
Ivan Vanko
/
Whiplash
.
This version of the character also includes elements of
Crimson Dynamo
from the comics. In the film, he will be the son of Russian scientist Anton Vanko, who, in the comics, is the original Crimson Dynamo and creator of said armor.
Downey offered Rourke the part during a roundtable discussion with
David Ansen
at the
2009 Golden Globes
, and Rourke met with Favreau and Theroux to discuss his character's role. Rourke almost dropped out of the role due to Marvel's initial salary offer of $250,000, so the studio chose to increase the deal.
Rourke researched for the part by visiting
Butyrka prison
.
He suggested half of the character's dialogue be in Russian.
Whiplash will act as the primary antagonist of the film alongside Justin Hammer. In the trailer, he is shown using electric whips.
nyarisz nak tolak offer sbb upah ciput...
arghhhhh......ada berani?....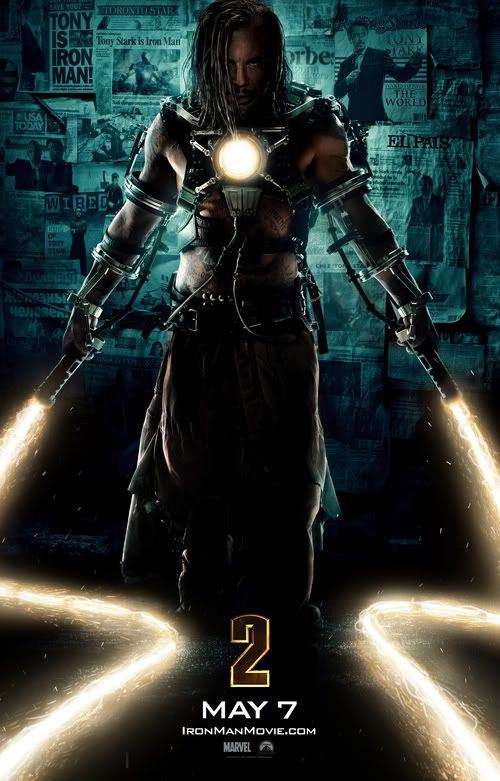 poster yang gah.......
ahhhh...black widow versi komik....meowwww......
p/s: mcm batman return...harap2 best meletupzz...